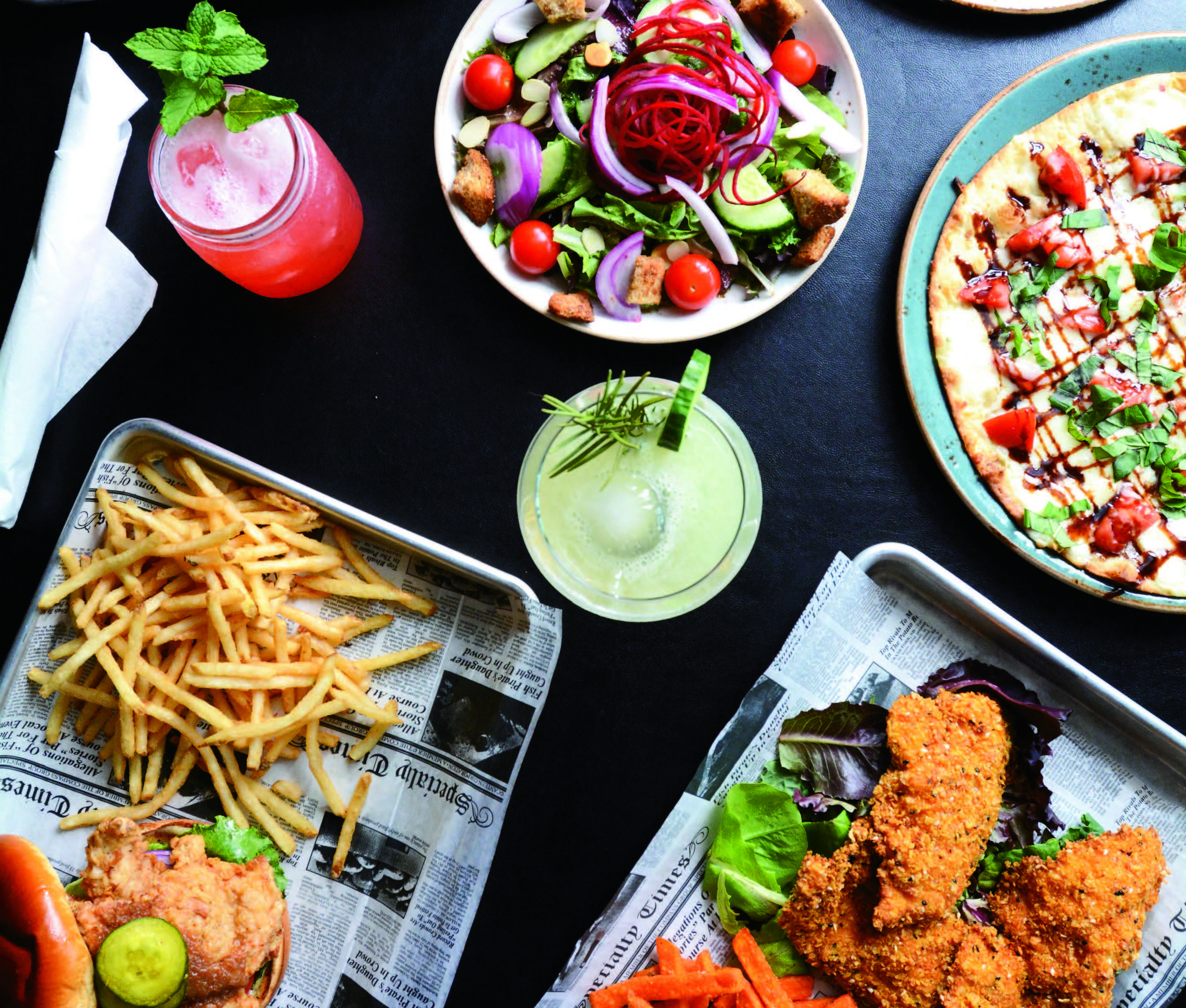 New Albany restaurant changes concept in light of COVID-19
BY LISA HORNUNG | PHOTOS BY JOSH KEOWN
---
There are a lot of potential disasters for which
restaurant owners can anticipate and prepare. A
global pandemic was never one of them.
Beau Kerley and Tim Smith have not come
through this worldwide storm without a few
scratches. That's why they are changing the business
concept for their restaurant, The Standard Plate &
Pour, 207 E. Main St., in New Albany.
While the veteran restaurateurs haven't dealt
with a massive shutdown like this before, they've
managed to keep several restaurants running and
the others are nearly back to their regular business.
But The Standard is now switching to a facility
that will only be open for private events, including
rentals and special functions put on by the company.
"We're going to be closed except for private(rentals). We're going to be doing wedding
rehearsals and business meetings and just every
private event we can do," Kerley said. "We're also
going to be putting on our own private events like
bourbon dinners or wine dinners. Against the Grain
breweries are going to be doing a takeover of our
patio, and we're gonna have a band out there one
night in August."

While most businesses have struggled through
the pandemic, the restaurant industry has been
hit especially hard, with an estimated $145
billion shortfall during the first four months of
the COVID-19 shutdown in the United States,
according to the National Restaurant Association.
June showed the highest monthly sales volume since
March but still remained about $18 billion down
from the pre-coronavirus sales levels in January
and February, the association said in mid-July.
The Standard felt it, too. "There was a little period
of time we saw a little bit of an uptick (in business)
there," Kerley said. "We opened, and at first it
was really slow. Then, we saw a little uptick and
thought, 'OK, well then, we're gonna go here and
do something,' but it just never really continued.
The margins in restaurants are so small, it just
doesn't make sense."

The pair have worked together for about 11 years,
starting at Bluegrass Brewing Company (Kerley is
still a partner at BBC) and then went to Crescent Hill
Craft House in Louisville, but decided they wanted
to strike out on their own. So, a few years ago they
started 812 Pizza Company in Georgetown. The
two also own Dos Gringos and the Early Edition
in Jeffersonville, and they opened The Standard about a year ago.
"Owning multiple restaurants, each restaurant
has had its own challenges. The Standard's been
tough. It's a nighttime, date-night market to begin
with. And that's one thing that we've found is that
date-night places have kind of been left out. At 812
Pizza Company, which is a family-style place that
delivers, our business has been doing really well
there. It came back really quick. But as to places
that are the nicer places, that still hasn't come
back," Kerley said in early July.
Kerley said he understands why business was
so slow. People are still unsure of their financial
future and aren't splurging on evenings out. So,
places that, "you go for a nice evening and a nice
meal and a bottle of wine, they're struggling a little
more, I think," Kerley said.
Though The Standard is popular, translating that
to dollars is different. "The interesting thing about
The Standard is that it's one of our best-reviewed
restaurants," Kerley said. "I have people call me all
the time and tell me how great of a time they had
there and how much they love their food, their
experience, the service. But it's just, you love it
but you just don't go there very often, you know?
That's kind of weird: I have restaurants that do a
lot more business and aren't as well-reviewed."
The change in concept helps the restaurant focus
on the needs of the community without having to
gamble on when customers will come in, potentially
wasting costs. The menu will be based on the
evening's events, but many of The Standard's most
popular dishes will be incorporated, and the focus
on Southern cuisine will stay, Kerley said. There
won't be a room fee, but there will be minimums
and several tiers of catering options.
"We're gonna be booking our own band nights,
and we're going to do dinner and a show, dinner
and music and maybe things like that," he said. They
will sell tickets and take reservations for the special
events. "But we're going to have more control over
it and make it more of a special thing, and know
exactly how many people are going to be there as
opposed to just being hopeful that people come
in. We're going to try to take a negative and turn
it into a positive."
The Standard's fun patio will also be available, he
said. "When we look at what our strength is there,
which separates us from other places, we have a
really nice patio," Kerley said. "We're trying to use
that strength and invest more in stuff that makes that
more accessible and more of a more of a spotlight.
"The shift means a tighter focus on offerings,
but no loss of jobs. "Luckily, we have five or six restaurants, so all of our employees are going to be employed. A lot of them are going to go work at Tucker's, and a few of them are going to go work at Dos Gringos, because we just redid Tucker's so we needed the staff anyway" Kerley said. "So this was
good timing. We're going to be able to offer all of
our employees, you know, full-time employment
in other places, so it works out."
During the days of the full shutdown, The Standard
was completely closed because "Downtown New
Albany was a ghost town," Kerley said. But carryout
and delivery sales actually increased at the pair's
other restaurants, especially at 812 Pizza. Now
all of Kerley and Smith's other restaurants are
available for carry-out and curbside service, as
well as free delivery.
Now that their other restaurants are open, they've
seen a 5 to 10 percent increase in carryout sales. "I
think there's gonna be a lot of people who aren't
going to be comfortable (coming inside yet)," Kerley
said in July. "People who still have illnesses that
keep them from going outside right now, you know,
there's a high likelihood to (contract the virus)."
Kerley and Smith are optimistic and thankful
for the community's support. "We love our rapport
we're getting from everybody locally, and we hope
people continue to come out to local businesses
and help us out," Kerley said. "We appreciate all
the support we've gotten from people. Just people
supporting us is such a huge deal, and we want to thank everybody."
But don't expect the pair to give in to economic
uncertainty anytime soon.
"We're not quitters: We're not giving up, and we
still think the place is awesome. We're just gonna
try to shape it into what people want it to be," Kerley
said. "Instead of forcing what we think should
be or what we want it to be, we're gonna kind of
listen to our guests and try to make it something
that they want it to be, and make it where it can
be successful."
"We love our rapport we're getting from everybody locally, and we hope people continue to come out." –Beau Kerley
---
The Standard Plate & Pour
207 E. Main St.
New Albany
(812) 590-1055
Facebook = @NewAlbanyStandard